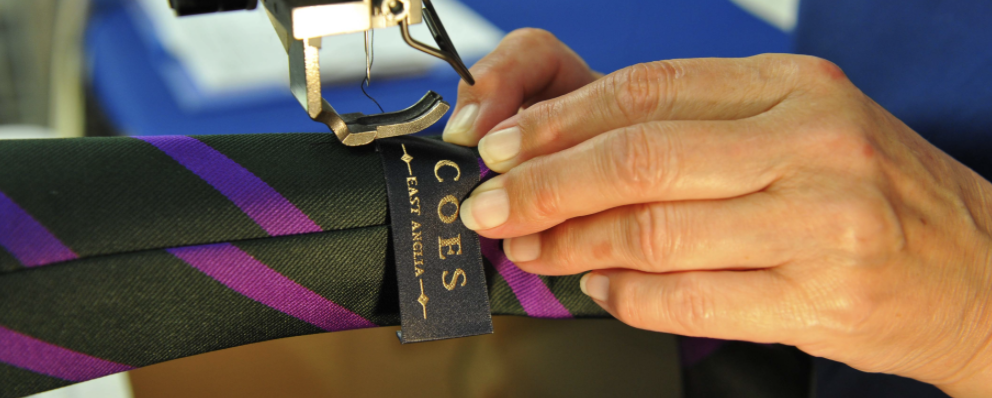 HOW TO ORDER TIES

The process normally starts with the customer either sending a tie to copy or forwarding artwork designs either in CAD format or hand-drawn sketches. Tie artwork is normally completed with 48 hours of receiving an enquiry and is free of charge. Ties fall into two categories:

• Striped (without logo)
• Plain or striped with logo

All ties are made in the UK in our SEDEX registered factories over which we have full control.


Striped Ties
All fabric is woven with a warp and weft method whereby fibres interlock to produce a woven fabric.

The warp is always a single colour (normally black) and the weft is the coloured yarns which make up the striped colours. On certain designs, normally on smaller stripes, we can weave what is called a crammed stripe. This packs double the amount of weft yarn to overpower the black warp effect and produce a much brighter stripe. This is available for a surcharge.


Striped Tie Sampling
As these do not require a logo designing, it is quick and simple to produce a fully scaled artwork sample mounted in a display card for approval. This service is offered free of charge and normally takes 3-4 days to complete. If approved, the enquiry is then ready to go straight to order and on loom, with a general lead time of 5-6 weeks at most times of the year.


Jacquard Ties (Motif)
A motif is generally displayed in three ways

•Single motif under the knot
•Single motif at the base
•Dotted all over the tie

Generally the most economical way to produce the tie is to have the logo all-over as the fabric can be cut any way and does not need placing, which uses more fabric and takes longer to make. It is important to tell the school from the outset that if they are looking for an under-knot design, the logo will not appear in exactly the same place on all the children. It will appear according to how the child ties the tie. This is especially relevant if the school are considering the tie to be worn with a pullover, as there is a good chance the logo could appear below the V of the pullover. In this instance, we would recommend a clip-on tie which is the most effective way of standardising the appearance of the tie when worn.


Jacquard Tie Sampling
When you're satisfied with your artwork and have placed your order, an actual woven sample of your design is provided within 2-3 weeks for your approval. Once approved, we will proceed with the bulk order. It should be noted that unlike striped ties there is a weaving origination cost incurred that is not charged providing the design does not change and the order goes ahead. If, for any reason, the design changes radically or the order is cancelled, this cost is chargeable.


Academies
With the rise of Academies, there has been a trend to a more corporate look. Whilst the majority of designs that we are asked for can generally be accommodated in weaving, some may have to be simplified. We have a special Academy pricing structure – please contact Sales for details.

Tipping
The reverse on the front blade of the tie is always finished with a tip. This is purely for cosmetic reasons and serves no purpose in strengthening the tie. The most economical method of doing this is to simply finish the tip in the same fabric of the tie. This is called a self-tip. A more prestigious fashion style of tip is available which is a set-back mitre satin tip. This is normally done in a matching satin fabric to the main tie colour and is standard on our jacquard ties. This normally carries a surcharge.

Finishing Touches
Ties can be provided with customer's own label. We can also supply ties sleeved (where requested to do so), ticketed and barcoded – please ask for details.



}